RestroPress DineIn
DineIn
RestroPress introduces you to Table Ordering System, Dinein allows to Click & Collect from a single platform. 
Online table ordering system offers you a contactless ordering making it more safe & secure.
Scan QR Code To Place Order.
Go Contactless and forget physical menu, use RestroPress DineIn!
QR Ordering helps restaurant during this pandemic situation by providing the customers with digital version of their menu also helps them to cut costs by minimising the number of staffs needed in the restaurant. It also helps to follow the social distancing.
Easier For Restaurants To Serve Food
RestroPress DineIn makes it easier for restaurants to take DineIn orders and it reduces chances of wrong ordering. Customers also get a realtime update of their order time with the help of a countdown timer which informs them the time approximate time it will take to prepare the order.
Installation
To install DineIn
Download DineIn
Go to the site's /wp-admin Plugins > Add New section.
Go to the Install Plugins section and select the Upload option.
Browse to and locate the ZIP file you downloaded in step 2, and select Install Now.
Finally, go back to the Plugins page, find the DineIn plugin and select Activate.
Setup
Go to Restropress -> Settings there you will find the option of Dine In, under DineIn section you will find two option General | QR Generator.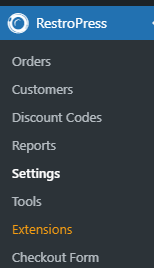 .

General
Select page for DineIn menu, enter Label for DineIn.
Choose a logo for your qr frame which is display on QR Generator section.
Here enter text for frame QR Code frame header \ footer.
In this Hide section you will hide your section by class or id name.
QR Generator
Here add your table name,and here showing your QR image that you will scan.