RestroPress – Tips
RestroPress Tips Extension allows you to collect tips from your customers. The plugin gives you the following options to choose from
The extension allows you easily collect Tips from your customers.
It provides you the option to set Percentage and Flat amount for the Tips Option.
It adds the ability for the customers to assign a custom tip amount.
Installation
To installRestroPress Tips
Download RestroPress Tips
Go to the site's /wp-admin Plugins > Add New section.
Go to the Install Plugins section and select the Upload option.
Browse to and locate the ZIP file you downloaded in step 2, and select Install Now.
Finally, go back to the Plugins page, find the RestroPress Tips plugin and select Activate.
Setup
Go to Restropress -> Settings there you will find the option of Checkout Options.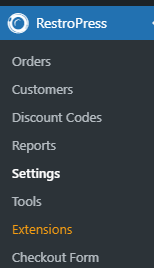 .

Login/Register Option
 This option affects how login/register options are offered on checkout page.
Enforce SSL on Checkout
Check this option to force users to be redirected to the secure checkout page. You must have an SSL certificate installed to use this option.
Enable Cart Saving
In this option you can enable cart saving on the checkout.
Enable Tips on Checkout
In this option you can enable Tips on checkout page.
Include tax on Tips
Here you can add taxes on Tips.
Text for Tips option
You can add text here wich will show onTips option on checkout page.
Description for Tips
Here you can add description for tips option.
Type
Here you can choose amount type as per your requirement , Flat Amount or Cart Percentage.
Tips Options
Here you can select how you would like your customers to enter tips option.
Predefined values
In this section you can enter the predefined Tips options you want to show, this will show on checkout.
Remove Tips Label
In this option you can remove tips button text and customize this.
Admin Tips Column
Here you can enable this option for showing tips column on order history.